Welcome to Nepal for your next holiday. If you are looking for a relaxing holiday and an exciting destination to revitalize your mind, soul and body then Orbit Nepal Adventure has a wide range of selections for you. In addition we are known for our impeccable quality travel service in organizing trekking in Nepal, expedition, tours in Nepal. Moreover we also organize other popular adventure activities throughout Nepal and neighboring countries including India, Tibet and Bhutan as well. Indeed our passionate team of dedicated individuals ensure your comfort while keeping the thrill of adventure a primary focus. Moreover with our dynamic team members and the quality service you would encounter the best ever traveling experience of life.
About us
As a tour operator since 2008, we have consistently been at the forefront of adventure and tourism, with a strong commitment to providing top-notch service to our customers. Our mission is simple: to ensure that our customers are always satisfied. To achieve this, we prioritize your needs and make them our top priority at all times. We always believe in the statement "Customer's satisfaction is our ultimate goal".
At Orbit Nepal Adventure, we understand that the quality of your experience depends on the knowledge and expertise of your guide. That's why we only hire certified, professional, and well-trained local tour guides. They are equipped to provide you with an authentic cultural and historical experience, making your adventure both insightful and informative.
Our Team
Orbit Nepal Adventure (P) Ltd is proud to have the best trekking, climbing and tour guides in Nepal's adventure and tourism industry. Our staffs are locally appointed on the basis of their guiding experience, knowledge, first aid certifications that they acquired. We can hence assert that we are one of the best trekking company in Nepal. Most of our field staff have a strong sense of ownership. Hence this is why we are able to provide quality service and best value trips all over Nepal.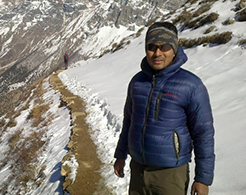 Mr. Bikram Thapa, a personality with great knowledge and passionate about adventure in Nepal is the Senior Team member of the organization. He was born in Godavari, north eastern edge of Nepal. Before he started to operate Orbit Nepal as an associate he himself had worked as trekking guide with different organizations for several years. Thus having varied practical skills has inspired him to serve helping hands to nature and adventure lover and hence he is always available to enthuse the visitors.
Furthermore he won several hearts of travelers coming from all over the world due to his friendly and hospitable nature. Specifically he understands the needs of each member of group during each trip and treats them individually with great care. Apart from handling trekking and climbing trips, he also takes care of inquiries of the clients, hotel reservations, transportation and flight reservations.
Trekking Adventure
Adventure enthusiasts visit Nepal seeking adventure and explore natural wilderness. Orbit Nepal Adventure offers a wide range of travel experience to some of prime destinations around South East Asia. We are well prepared to facilitate and enhance your travel. Whether it is a tea house or camping style, our goal is to assist you in the best possible way. For instance we organize inspirational trekking to Everest, Annapurna, Langtang and other popular areas such as Mustang, Manaslu, Dolpo, Kanchenjunga and also including other less touristic destinations.
We also operate and organize tour packages for instance in Kathmandu, Patan, Bhaktapur and other popular world heritage sites in Kathmandu valley to enjoy ethnic and cultural traditions. Furthermore to provide further thrill in your adventure we also provide package tour to Pokhara, Lumbini, Chitwan and other beautiful villages to explore its beauty and wilderness. Equally important we provide sustainable tours and travel packages that provide insight into cultural, historical and natural beauty of Nepal besides supporting ethnic communities.
Achievements of Orbit Nepal Adventure
Everest Trek: Conducted Everest region trekking since 2001 guided by Chairman of the organization. Since 2008 a competitive agency had been established which operates all sorts of trekking.
Trekking and Expeditions: Orbit Nepal Adventure operated several trekking, climbing, and expedition programs to more than 100 peaks & trails with full safety and delight.
Adventure and Tour Activities: We also specialize in adventure and tour activities such as charity and fund raising treks, treks for school students, treks for awareness, treks for sanitation, cycling for peace, corporate adventure activities and many more.
Success: So far we've achieved an amazing success rate of around 95%, which is a monumental record for any adventure operator based in Nepal.
Our Affiliations
Recognized by Ministry of Tourism, Government of Nepal.
TAAN (Trekking Agencies Association of Nepal).
NMA (Nepal Mountaineering Association).
KEEP (Kathmandu Environment Education Project).
NTB (Nepal Tourism Board).
Tourism Industry Division.
Nepal Rastra Bank (Foreign Currency Exchange Membership).
Our Mission
Besides always striving to organize quality service to our client assuring superior holiday experience we are among few pioneer tour operators in the Himalayan region of Nepal. "Each day is a new day". We are diligent each day towards raising the bar of our service and improved high standard customer service. We are committed to enhance local capacity and skill which will help economic revival and sustenance of communities inhabiting around trek routes. We encourage Responsible tourism by supporting local initiatives and sensitizing local tourism institutions to promote sustainable practices of tourism and its improvisation.
Services We Offer
Group & Individual sightseeing package tours.
Trekking & Camping tours with full logistics support.
Peak climbing & mountaineering in Nepal.
Organize special package tours including trek to Tibet, Bhutan and India by overland or by flight.
Customize tour itineraries (Charge as per interest of clients).
Domestic & International flight ticketing.
Visa Assistance for Tibet, Bhutan and India.
Adventure activities such as White Water Rafting, Cycling Tour, Bungee Jump, Paragliding etc.
Jungle safari tour for single and group.